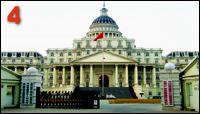 This governmental building is in Yingquan District of Fuyang, Anhui Province安徽阜阳颍泉区, which costs tens of million Chinese Yuan. It is "Western-style". The average annual income of local people is 2000 Yuan.
A very interesting thing is that the Chinese always misunderstands that
Capitol
as
White House
. If you check it around, you will never find such description that "Capitol-like" buildings, but always "Whitehouse-like", which are very different basically. However, few Chinese notices it at all.